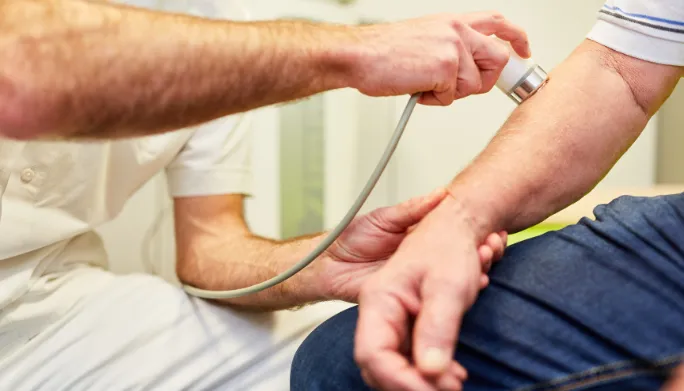 Ultrasound, a type of mechanical energy, has been used for years to reduce chronic pain and speed up the healing process. A physical therapist can use ultrasound therapy in a variety of ways to reduce pain and treat injuries. Contact us for more information about how ultrasound therapy can promote healing, decrease pain, and improve your ability and performance in daily activities and tasks.
How Ultrasound Works in Rutherford
Ultrasound therapy uses sound waves to treat various muscle, bone and ligament conditions. The sound waves generate vibrations that produce heat. The friction created when tissues vibrate at the molecular level is caused by the vibrations of sound waves. The friction causes tissue temperature to rise. This is just one advantage of ultrasound applications. Ultrasound can penetrate deeper into tissues than a hot pack.
Gel is used to reduce friction and promote transmission of ultrasound waves during physical therapy. Your tendons, ligaments and connective tissue absorb the waves.
What Ultrasound Therapy does for the Body
Two ways that ultrasound can help you heal and repair your tissues during physical therapy are the most common. It provides heat or thermal energy. The second benefit is non-thermal.
Thermal – Ultrasound heats tissues deep into the tissue. This can improve circulation and reduce pain. The heat can also allow muscles to stretch more easily. The ultrasound can also be used to loosen muscles and tendons.
Non-Thermal Ultrasound – Ultrasound can also work in ways that are not related to heat transfer. Ultrasound creates tiny gas bubbles around tissues when it transmits energy to the body. These gas bubbles expand and contract at an accelerated rate. This phenomenon is known as cavitation.
Ultrasound Therapy Benefits
Heat will increase blood flow – As cold reduces blood flow, heat will also increase it. Ultrasound therapy can cause blood vessels to expand and increase blood flow. An increase in blood flow will mean that more nutrients are delivered to the injury area while less waste is removed. This improves healing.
Reduce swelling and inflammation – Ultrasound therapy has been proven to decrease stiffness and increase range of motion, as well as reduce stiffness and inflammation. This will make it easier for your joints and muscles to respond to manual stretching and other types of massage if blood flow has been increased and inflammation reduced.
Promote tissue healing – Ultrasound can not only improve your muscles and joint range, but also aids in the healing of injured tissues. Ultrasound can affect the metabolism of tissue cells. The ultrasound vibration can prevent scar tissue formation.
Conditions treated with ultrasound in Rutherford
Although ultrasound can increase blood flow, reduce swelling, inflammation and tissue healing are all general benefits, there are a few conditions that it can be used to treat. Here are some of the conditions that can be treated with ultrasound.
Ultrasound therapy can effectively treat bursitis and tendonitis.
Ultrasound Therapy for Muscle Strains and Tears: This can help reduce the time it takes to heal sprains strains and tears.
Muscle spasms – Heat can be applied to various areas on or near the site to relax muscles and reduce spasms.
Rheumatoid Arthritis (RA) and Osteoarthritis (OA) – These chronic conditions respond well to ultrasound's deep heat.
Low-intensity ultrasound can promote healing of bone fractures. Ultrasound is also a cost-effective and less invasive method to diagnose certain types of stress fractures.
These are just some of the many conditions that ultrasound physical therapy can treat. Whiplash, phantom or severe limb pain, toothache, and certain types of cancer can all be treated with ultrasound physical therapy.
Find a qualified physical therapist in Rutherford
An ultrasound-trained physical therapist may be able help you with many types of conditions. It is important to choose a physical therapy that has been trained in treating your condition. Your condition may be treated by a trained therapist using a variety of ultrasound techniques. Sometimes, ultrasound therapy is used in conjunction with different types of massage or exercise.
The physical therapist's goal is to relieve your symptoms and promote healing. This will improve flexibility and range-of-motion. This will help to reduce or eliminate pain from your injury. The physical therapist will also be able to teach you exercises that you can do at home and how you can improve your gait and posture in order to prevent future injuries. The physical therapist's goal is to help you increase strength, range of motion, and everyday functionality. Call us today for more information about how ultrasound therapy may help your condition.
Request An Appointment
Please fill out this form and
we will contact you about scheduling. Denise J

"John is the most caring and empathetic therapist around. He makes you feel that he truly cares about your pain. His expertise shows through his work and I appreciate the clear explanation he provides with every step of my recovery. I couldn't do any of the exercises without pain when I arrived.  With the correct strengthening and stretching exercises I was able to heal. Now I'm pain free and do my at home exercises to stay that way. The receptionist,  Kathy, makes scheduling easy and doesn't over book patients which allows John to give his all to you. She is  a very friendly and competent receptionist. I highly recommend Rutherford Physical Therapy." Anna S

"I went here after having some pain affecting my running. John took the time to examine and explain what was happening, answered all my questions, and gave me plenty of rehab to keep up with at home so that hopefully pain free running continues. Cathy at the front desk was always wonderful to interact with and so welcoming, the office is very flexible to fit scheduling needs."